BODY SUGARING
In body sugaring we remove unwanted body hair and dead cells using sugar and the right technique. As a result, you get a healthy, smooth, and hairless skin. Sugaring is suitable for all kinds of hair and skin types. Sugaring is a professional way to remove body- and facial hair.
.
Sugar is a 100 %, natural product and does not contain most common allergens. Sugar is not tested on animals.

Sugar is able to remove very short hair, as short as 2mm hair

Sugar removes hair in the direction of hair growth, not against it. Hair does not break and stays away longer.

Sugar does not stick to living cells, it is safe to use on intimate areas.

Sugaring is hygienic.

Sugaring slows down hairgrowth more effectively than waxing.

Sugar is not hot. It does not burn or create scars.
Sugaring is a fantastic way of peeling your skin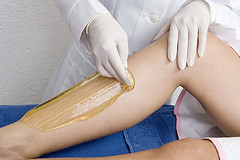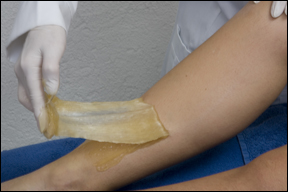 Spreading of sugar on legs Removing of sugar on legs
Does sugaring hurt?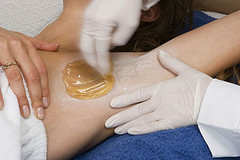 Sugaring removes the hair by the roots, so you will feel it and certain areas of your body are more sensitive than others. Your skin's sensitivity lessens with each treatment and over time your hair becomes much easier to remove.
What are the things to consider before and after sugaring?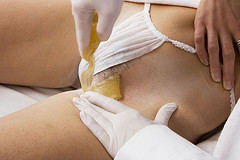 Sugaring is a very effective, mild peeling. You should not peel the area to be sugared less than 2 days prior to your sugar treatment.

After the treatment, avoid heavy sweating for at least 12 hours and do not peel the skin for the next 2 days.

After this period, it is very beneficial to peel your skin at least twice a week and use a good body lotion regularly to prevent the formation of ingrown hair. Even though really short hair can be removed by sugaring, it is recommendable that the hair is at least 4mm long when you come for your first sugaring.
To learn more about our other treatments, click on the links up in the corner to the right.
Call us to book your appointment tel: +358 2 4316 155 . You can also book your appointment online.
Sirkkalankatu 29, Turku ( near the corner of Kaskenkatu and Sirkkalankatu )
E-mail: info@shania.fi