I am Annette Wahlberg, your SKY-cosmetologist (SKY-Institute 1983)
Both your inner and outer beauty are important to me. I care deeply abo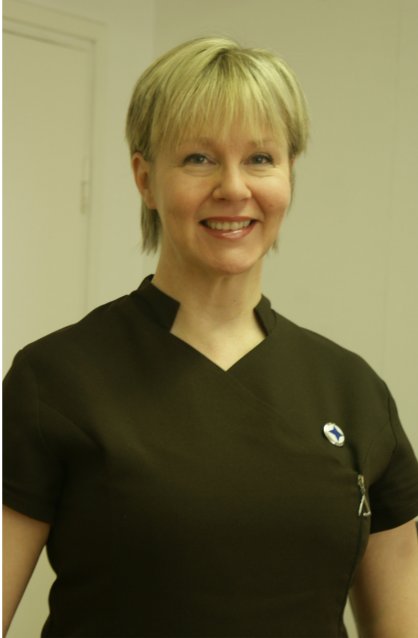 ut my clients and desire to help them learn how to live a more balanced life and let their natural beauty be radiant.
You are a whole person and your skin reflects your inner well-being accurately. Our lifestyle, what we eat and drink, how we exercise are just a few of the factors that contribute to the health of our mind and body and play a part in how we look on the outside.
When clients come to Shania, they know I will pamper them during the treatments, but will also give good, practical advice on how to take better care of their skin and life.

When you hear me "preach" about the harmful effects of ingredients in most cosmetics, you will know how much I care about rehabilitating unbalanced skin.

Ingredients such as mineral oils, par
abens and harmful sun protectors are industry standards, but do much more harm than good and should be avoided
Shania enjoys being able to support the training of young people coming into the cosmetology profession. Students from tradeschools like Axxell Yrkesskola often contact the salon for the opportunity to complete their internship under guidance.
The intern students provide a range of treatments at reduced prices. All interns are fluent in Finnish and Swedish, and most speak English.
By signing up for the Shania newsletter and following us on Facebook, you will always be up-to-date with the exciting things going on at Shania.
Your coach
Annette graduated in 2007 as a life and business coach ( ICF certified coach training from CoachU Inc., USA) as a NLP Practitioner 2014 and has specialized in equine-assisted coaching since 2008.

Many of her clients seek help to restore or build confidence, develop leadership skills, improve communication skills, and learn how to maintain a balanced life through the stress of everyday life.
Call us to book your appointment tel: +358 2 4316 155 . You can also book your appointment online.
Sirkkalankatu 29, Turku ( near the corner of Kaskenkatu and Sirkkalankatu )
E-mail: info@shania.fi